Zenou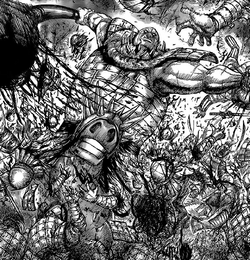 Biographical Information
| | |
| --- | --- |
| Status | |
| Age | Possibly 40s |
| Gender | Male |
| Eyes | Dark Grey |
| Hair | Bald |
| State | Qin |
| Residence | Qin Mountains |
| Location | With Kan Ki Army |
| Birth Place | Somewhere in Qin Mountains |
Zenou is one of Kanki's Commanders, he is the leader of his clan of berserker warriors the Zenou Clan.
He is bald and a true giant of a man said to be tall enough to tower over Mou Bu. His face and head are covered in crisscrossed scars and his eyes are consistently bloodshot. The canine teeth in his lower jaw are long enough to jut out from his mouth, making him appear even more bestial than his men.
He was one of the major bandit leader until Kan Ki decides to take him under his belt.
During the Battle of Koku You Hill, he was ordered by general Kan Ki to turn the situation around under lieutenant Rai Do is a command.
Zenou's most obvious ability is his monstrous strength. He has been shown smashing through dozens of enemy soldiers on his own, sometimes even crushing their skulls with his bare hands.
In spite of his brutish appearance, Zenou is a competent leader. Though not on the level of Kan Ki, he is able to enact quick strategies in the heat of battle.
Community content is available under
CC-BY-SA
unless otherwise noted.