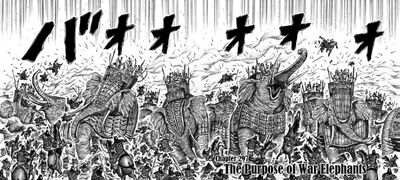 History
[
]
War Elephants used by the Chu army, originally not from China, but presumably imported from southern Asia. Used by the Ka Rin Army.
Strengths
[
]
Their whole body is covered by a hide so thick that the average weapon is completely unable to deal a mortal wound with a normal attack. The weapon must penetrate deeply for the elephant to sustain any serious wounds.
Their savage personalities, they have been specially trained to attack humans.
They can easily break through any formation, hold back a cavalry-charge, and cause panic. Meanwhile archers on top rain down arrows at their leisure.
Frightens enemy troops and horses.
Weakness
[
]
Needs a specific chain of control that shouldn't be broken. Nearly useless if not dangerous to one's own army without guidance.
Have to be imported from the Indian-subcontinent or Indochina along with their tribal handlers.
Risk of backfiring and loss of control.
Possibly quite expensive.