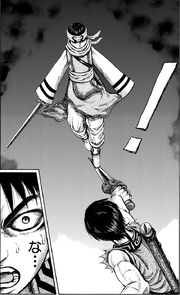 I started reading Kingdom around December 2013 and it quickly became my favourite manga of all time. I'm sure you all know, and it goes without saying but this is the most adrenaline fuelled manga ever written.
I found this wiki shortly after, and it helped to increase my enjoyment of Kingdom
If anyone wants pages updated and they can't be bothered, just message me.
I would like the global fanbase of Kingdom to increase so we may one day have a English release.
Current Projects
[
]
Favourite Characters
[
]
My Favorite Pages
[
]
Needs Attention
[
]
Notes
[
]
on a other note. i was waiting for more contributors but that will never happen so i wanted to do it anyway. battle pages needs to be updated and added like the new ones. relationships, history and story -Shin -Ei Sei -Kyou Kai -Ka Ryo Ten -Ou Ki -Ren Pa -Ryo Fui -Queen Mother -Shou Bun Kun -Ou Hon -Mou Ten starting with these ones
-Hou Ken -Ri Boku -Mou Bu -Mou Ten -Ou Hon -Rin Ko -Ren Pa -Heki -Yo Tan Wa -Man Goku -Ryuu Koku
Test
[
]