Ton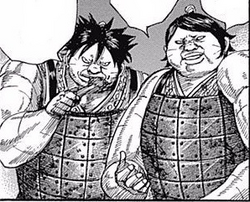 The twin brothers and rookies of the Hi Shin Army, Ton Kaku and Ton Koku, they're two men currently under Bi Hei Unit's command.[1]
Appearance
[
]
Both are rather large and heavily muscled men. As fresh recruits, they are seen wearing basic armor but without shoulder guards of sleeves
Personality
[
]
Initially, both were rather cocky as seen with their bragging over killing five men a piece during the battle for Retsubi. But as the Gyou Campaign continued, they began to mature and harden as soldiers while also taking their comrades' well being and advice to heart.
History
[
]
Story
[
]
Abilities
[
]
As fresh recruits, they were notably resilient as they endured the Hi Shin Unit's new and harsh training programs. Additionally, their initial skills were noteworthy as they each killed five men during their first battle.
Gallery
[
]
Trivia
[
]
References
[
]