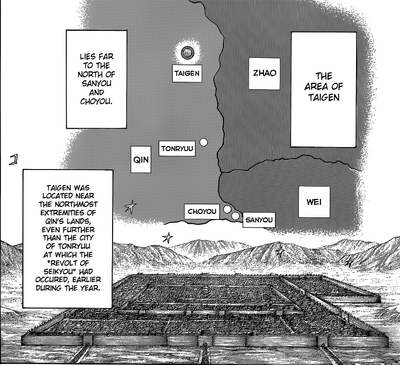 History
[
]
Formally known as Taigen. It used to be one of the heaviest guarded city in Qin. However due to the latest wars being concentrated in the center of China, this city became largely ignored. The Royal Harem used their wealth and influence to relocate soldiers and resources to fix up this city and to reinforce it.
Story
[
]
The Queen Mother wanted to make her own state and therefore took the city formally known as Taigen and used the wealth of her faction to make the state of Ai in 239 B.C. The strategist who made this possible is Chou Kou, who prepared everything. He also made a pact with Chu to defend the state against Qin. He is made chancellor of state by the Queen Mother.
Culture
[
]
The state of Ai was made up of multiple types of cultures and people from different states. including officials from Chu and Zhao. Along with remnants of the Juuteki Tribe, and also people of Qin loyal to Ryo Fui and the Queen Mother.
Factions
[
]
Members of the Court
[
]
The court was mostly under the Queen Mother and Chou Kou's control with Rou Ai serving as a front man insuring peace until officals of Chu and Zhao turned against the King and Queen. Forcing them to either take action or have there heads sent to Qin ending the rebellion they started.
Royal Family
[
]
Chancellors
[
]
Officals
[
]
Military
[
]
The Ai Military was made up of remnants of the Juuteki Tribe along with loyal soldiers of Ryo Fui under the command of Han O Ki. Using the royal seal they were able to gather more men from the state of Qin and turned them into rebels.
Generals
[
]
Commanders
[
]
Hamui
Wa Tegi's Commander (former)
Budai
Wa Tegi's Commander (former)
Battles
[
]
See also Territory of the states.
Cities/Villages
[
]
Geography
[
]
Ai is located the north of the Qin territory. This city was the most northern city in Qin.
Gallery
[
]