Shun Pei Kun
Chinese
Chun Ping Jun
Kanji
春平君
Romaji
Shan Pei Kan
Shun Pei Kun was a lover of the King of Zhao, Tou Jou. He was tricked into coming to Qin by Ryo Fui and then got kidnapped and used as a bargaining chip.
Shun Pei Kun is a young, slim man with feminine characteristics. His hair is long arranged in a top knot and he is usually seen wearing robes.
Not much is known about his personality apart from the fact that he was naive enough to trust Ryo Fui and follow him casually.
Shun Pei Kun comes from a noble family. During Ryo Fui's merchant days in Zhao, he and Shun Pei Kun developed some kind of friendly relationship, as he helped the young boy's family manage their funds. At some point he and the king of Zhao became lovers. Their relationship must be strong, given that Tou Jou has deep feelings for him.
After the Battle of Bayou, Ryo Fui messaged Shun Pei Kun and asked him to visit him in Qin's capital, in order to work together to repair a small measure of the Qin-Zhao relations. The young man accepted, as he was an old acquaintance of his, and trusted him enough to follow him in enemy territory.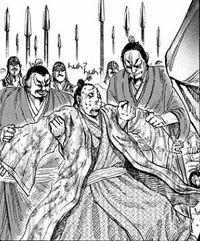 However, when they reached Kanyou, Ryo Fui revealed his plan to kidnap Shun Pei Kun and use him as a bargaining chip to gain power over the enemy state of Zhao. Ryo Fui sent a message to the Zhao king, saying that if he wanted Shun Pei Kun back safe, he should send for replacement the prime-minister of Zhao, Ri Boku, himself. Tou Jou accepted without second thoughts, willing to risk the life of such an important figure for his kingdom, just to save his lover.
Ri Boku accepted his fate and went to Kanyou so that the exchange could be made. Indeed, Shun Pei Kun was set free to return to his master.
As a member of a noble family, Shun Pei Kun must have some political influence in the state of Zhao, as well as the power provided by his family's wealth.
His relationship with the king places him in a powerful position and he can exploit it to a great extent, as seen when the king was willing to sacrifice Ri Boku to save Shun Pei Kun.
Apart from that, whether he has any physical abilities or not remains unknown.
Community content is available under
CC-BY-SA
unless otherwise noted.