Sei Kai
Chinese
Cheng Hui
Kanji
成恢
Romaji
Sei Kai

Biographical Information

Status
Marital Status
Single
Age
30s
Gender
Male
Hair
Unknwon
Skin
Grey
Light (formerly)
Distinction
Black Veins all over his body
State
Han
Location
Kankoku Pass (Death Place)
Sei Kai was a Great General from the State of Han.
Appearance
[
]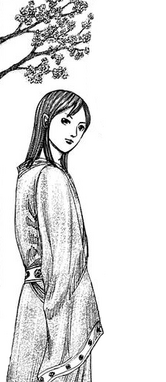 Sei Kai was said to be a beauty in the past that made even men attracted to him. After his various experiments with poison, his face became marked with black veins and his eyes black.
History
[
]
Sei Kai's reach had extended all the way to far-flung worlds to accumulate all the venomous flora, fauna and minerals he could get his hands on. He would spend day and night steeped in his research, continuously mixing and distilling until he devised unique poisons to be used for martial purposes.
It is said that Sei Kai was originally a man of such beauty that even other men would find themselves enamored with him. His overly zealous dedication to poison research had resulted in the poison steeping into his own body. There was not a single man under his command to be sound of body. Over a hundred of his men had died in the name of his science, and even those that survived did not emerge unscathed.
Story
[
]
On the 7th day of the Battle of Kankoku Pass, Sei Kai moved in with his Poison Weapons Corps to target the Qin commanders positioned atop the wall. Upon finding their location, he ordered them to fire the Tangan and retreat back to HQ when it strikes Chou Tou's location.
Abilities
[
]
STATS
Strength
50
Leadership
86
Intelligence
88
Experience
C
Is seriously very beautiful
STATS
Strength
50
Leadership
86
Intelligence
88
Experience
C
Is seriously very beautiful
STATS
Strength
50
Leadership
86
Intelligence
88
Experience
C
I'm a poisoner, so what?
Sei Kai was an average commander with no military experiences. Despite that, he was the commander-in-chief of Han army during the coalition war against Qin, indicating his talent.
Physical Abilities
[
]
Sei Kai does not possess any talent in martial skills as he preferred to run away from battles.
Leadership
[
]
Sei Kai possessed an average leadership and was able to command men in battlefields.
Tactical Abilities
[
]
Poison: Sei Kai researched poison from different animals, insects and plants found both inside and outside of the borders of China and was able to produce deadly mixtures. One mixture kills fast when it wounds its targets and was therefore used by his archer troops. Another mixture kills slowly and was used as a gas contained in spheres, which were shot by ballista's to the enemy and wouldn't have any obvious effect until eight days later.
Quotes
[
]
"What foolish drivel. Poison is a tried and true weapon when it comes to efficiently killing humans. It is not to be twisted by the nonsensical logic of some senile old soldier." (Chapter 303, page 7)
Gallery
[
]