Leader (DEFUNCT)
Edit
Known Members
Edit
For palace girls, attending to the King is like a battle. Thousands of girls gather at the Harem for the purpose of bearing children for the King. The actual number of girls who give birth is probably only a few dozen, the rest end up becoming their servants. By giving birth to the King's children, they will become one of the few people to hold power in the Harem. If one is lucky to give birth to the first son, then that girl will become Queen of Qin and have the authority to do whatever they please both inside and outside the Harem.
Political Support
Edit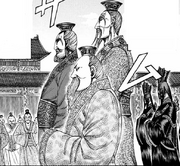 The Three Great Families of Qin that support the royal harem faction are the Han, Kai and Ryou. A large number of the staff currently overseeing the Sanyou region comes from the Royal Harem Camp.


Community content is available under
CC-BY-SA
unless otherwise noted.