Kingdom (キングダム Kingudamu) is a Japanese seinen manga series written and illustrated by Yasuhisa Hara (原泰久), published by Shueisha and serialized in Weekly Young Jump.
The story takes place during the Warring States Period of ancient China (476-221 BCE) centering on the journey of an unknown boy and young king as they try to change the kingdom's course of history where it will lead to their destiny being marked by violence and pain.

Note: In the manga, the names of the characters are currently translated from their Japanese names and not their Chinese equivalents. Therefore the Japanese names will be used for page names and information on the pages. Chinese names should be added to the info boxes on pages.

Please use high quality (HQ) images when uploading in the wiki. We often upload images from the Japanese tankōbons or from the Weekly Young Jump magazine.
Attention soldier,

Unfortunately, due to our fierce battles and long campaigns, many of our soldiers have deserted. So please join the fight to unify all of China, we need new recruits eager to leave their mark in history to write down our exploits of the battlefields (editors). Also, these tales are for future generations hear the tales of the "Greatest General in all of history!"

Are you a new recruit eager to leave your mark in history?

Did you find a story incomplete?

Do you want to be a greatest general under the heavens? (Hah, you can't because I will.)

Then you can edit pages and start ranking up while gaining achievements.

If you don't know the art of the battlefield, the Great Generals left us some rules and guidelines to follow against our greatest enemy-bad grammar.

Also your commanders will be there to show you the way. You can always find one of our fierce commanders either by sending a messenger or post it to a message wall.

See you on the battlefield soldier.

~Shin of the Hi Shin Unit. (Written by Ten).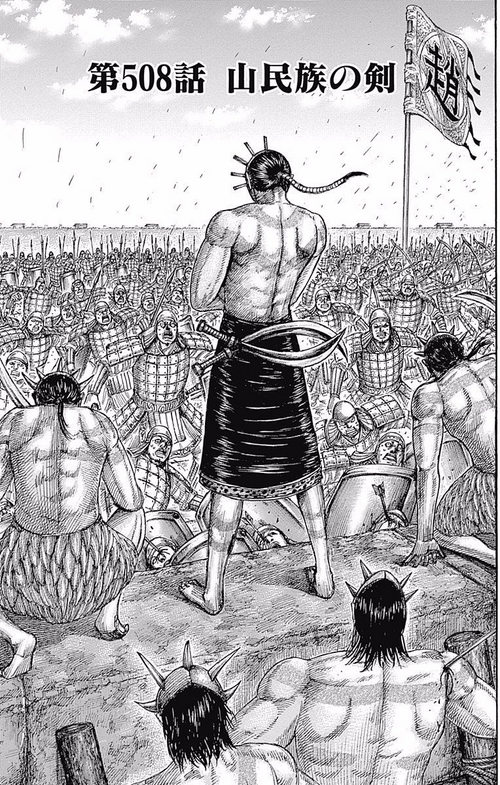 Chapter 508: "Sword of the Mountain Tribes"
Ba Jio and his men are at the top of Retsubi's wall. How will the outnumbered mountain people perform against the Zhao defenders...
Affiliations are handled here→
es: