Mai Kou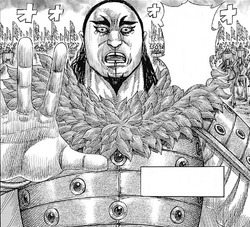 Biographical Information
| | |
| --- | --- |
| Status | |
| Marital Status | Single |
| Gender | Male |
| State | Zhao |
Professional Information
Classification
Army Commander
Cavalry
Occupation
Soldier
Affiliates
Zhao Military
Mai Kou Army
Military Rank
General
Equipment
Sword
Mai Kou is a General from the state of Zhao.
Mai Kou has a huge build and is dressed in armor befitting his rank. He gives the appearance of someone who has spent a fair amount of time on the battlefield.
He is both cruel and cautious. He was seen beheading the people of the cities he took before heading to Tonryuu and was quick to retreat when danger was approaching his HQ.
He is first seen as a general with an army of 20,000 destroying cities on his way to Tonryuu in an attempt to take the city. When Sei Kyou's army arrived and he received word that one of his ranking officers was killed, he retreated. Later, when the Heki Army showed up to deal with the rebellion's army, he shows up with his army in an attempt to crush Heki's army from both sides. It was then made known that their army was an ally of the Rebellion's Army under General Ryuu. Things did not go as planned and his army took severe damage by the Hi Shin Unit. When he felt his HQ was in danger he called a retreat and fled from the battlefield. His actions prompted the Rebellion's army to retreat back to Tonryuu.
STATS
Strength
86
Leadership
87
Intelligence
82
Experience
B
Community content is available under
CC-BY-SA
unless otherwise noted.