Kyou Rei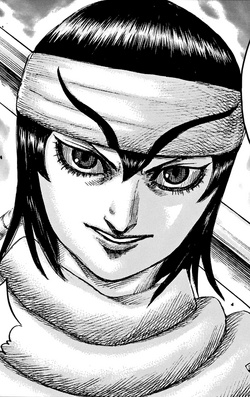 Biographical Information
| | |
| --- | --- |
| Status | |
| Marital Status | Single |
| Gender | Female |
| Eyes | Brown |
| Hair | Black |
| Skin | White |
| Relatives | Kyou Shiki (adoptive sister) |
Kyou Rei is an assassin from the Kyou Tribe and current holder of the Shiyuu title.
Kyou Rei is a small woman with black hair tied into a ponytail with a ribbon and cat-like eyes. She is wearing standard Shiyuu robes and a white headband with two markings.
Kyou Rei seem to posses dark and twisted personality. She greatly enjoys killing her enemies and sees the war as a fun game. Kyou Rei also has a lot of arrogance as she ignores orders and looks down upon commanders of Hi Shin Unit.
Kyou Shiki and Kyou Rei were raised as sisters in Kyou village and trained by the Elder in assassination techniques.
She is briefly seen in her early days when together with Kyou Shiki, and Kyou Shou they were nagging Kyou Kai for only hunting one frog despite being her turn to find food for everyone. She gets angry, because Kyou Kai is the one who always eats the most and Kyou Kai in response punches her in the head.<[1]
At some point after Battle at Dakan Plains Kyou Kai returns to her villige and is ambushed by Kyou Rei (who took Kyou Shou's blade - Hakuhau) and Kyou Shiki. However, they are both easily defeated.[2]
Some time later she is seen training with her sister under the watchful eye of Kyou Elder and both sisters are able to put their blades on each others neck. Kyou Shiki says that if they didn't hold back one of them would end up dead. Kyou Rei says that would be Shiki. Rei then propose to make a dinner and goes out to hunt a rabbit. Meanwhile Shiki and Elder talk about Yuu Ren's death and the next ritual.[3]
She was seen along with her sister, to be the next contenders for the Shiyuu position, should Yuu Ren die.[4]
She went to the Hi Shin Army HQ, after cutting swathes of massacred Zhao soldiers all the way to the army's position. She saved Kou and Bi Hei's unit from a certain death, then told them to guide her towards Kyou Kai. After meeting her and grinned at the notion of her twin sister, she decided to join the Hi Shin Unit voluntarily, but earned the ire of the soldiers due to her attitude and later on, her actions. In their offensive, she sprung the ambush, attacking and killing Zhao soldiers after channeling her bloodlust.
Her insubordination and reckless attitude further enrages the infantry, even her killing of Zhao prisoners was condemned. The group then tried to eliminate her, but Kyou Kai jumps in front of her before the fight began.
Kyou Shou is a ferrocious warrior who's skills were compared to those of Kyou Kai. She is capable of easily cuting down massess of soldiers on the battlefield.
Young Kyou Rei
Young Kyou Rei with Hakuhau
Kyou Rei and Kyou Shiki sparing
Close Up
Close Up
Kyou Rei killing Zhao soldiers
Kyou Rei turning the battlefied into a bloodbath
Community content is available under
CC-BY-SA
unless otherwise noted.