Kou Ri Gen
Chinese
Huang Li Xian
Romaji
Kou Riggen
Epithet
Ten Bows of China

Biographical Information

| | |
| --- | --- |
| Status | |
| Marital Status | Single |
| Gender | Male |
| Eyes | Black |
| Hair | Black |
| Skin | Brown |
| State | Wei |
| Location | Dakan Plains (Death Place) |
Kou Ri Gen
was the leader of an archer unit guarding
General
Kyuu Gen
in the
Battle at Dakan Plains
. He carried a large black bow with a quiver full of arrows on his back. He was one of the
Ten Bows of China
.
Personality
Edit
He was very confident in his abilities, he also respects talent. He quickly disregarded Shin's age and acknowledged his martial prowess.
Appearance
Edit
He was an archer with a large, muscular build with a trimmed goatee and large eyes.
Kou Rigen joined the Wei Military at some point in the past. His skill with the bow, not only earned him a raise in military rank, but also put him among the "Ten Bows of China".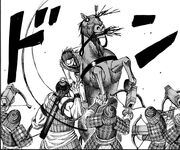 During the Battle at Dakan Plains Kou Ri Gen was called forward by general Kyuu Gen to halt the advance of Baku Koshin's unit which had broken past his guard unit of 2,000 men. He and his unit of archers brought down some of the Qin men but were unable to stop them from reaching the general. Kou Ri Gen shot BakuKoshin in the chest but it did little to slow him down. He was cut down by Shin who deflected two of his shots at close range, something only those with martial talent could do. 
Abilities
Edit
STATS
Strength
90
Leadership
72
Intelligence
65
Experience
C

He is an expert archer as he places an arrow in the eye of a Qin cavalry unit. His shots are strong enough to pierce Qin armour. He was also accounted as one of the Ten Bows of China.