Jurassic World: Dominion Dominates Fandom Wikis - The Loop
Play Sound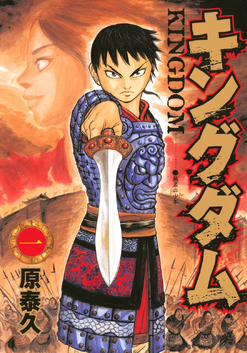 Kingdom (キングダム, Kingudamu) is a Japanese seinen series.
The manga is written and illustrated by Yasuhisa Hara and is currently being serialized in Weekly Young Jump. It later received an anime and movie adaptation.
The story start at 245 B.C. in China, during the Warring States period. A servant named Shin fights for the state of Qin.
Plot
Millions of years have passed since the times of legends when the worlds of man and gods were still the same. In these times it was the desires of man that moved the world. It is the period of the 500-year war: the Era of Warring States. 
Born in the Warring States period of ancient China, Shin and Hyou are war-orphans in the state of Qin who both dream of becoming the "Greatest Generals of the Heavens" to rise from their lowly stations as slaves in life. One day, however, Hyou is taken to the palace by a minister to be used for unknown purposes, leaving Shin alone as a household slave in their home peasant village.
A few months later, Hyou returns to the village on the verge of death, urging Shin to travel to another village full of vagabonds and thugs. There he meets a boy who looks nearly identical to Hyou, Ei Sei, the current King of Qin, and a strange lookout for the village called Ka Ryo Ten. Shin learns that his best friend served as a body double for Ei Sei, and was mortally wounded in a power struggle for the throne. Though initially enrage at Ei Sei for causing Hyou's death, Shin decides to seize the opportunity and aid the young king in defeating his younger half brother and reclaim the Qin throne.
Successful in this endeavor, Shin officially starts his life as a Qin commander on the battlefields of Warring States China with the goal of becoming the "Greatest General in the World", and to help the young king of Qin achieve his dream of total Unification of China, ending the incessant warfare once and for all. 
Manga
Volumes and Chapters
There are over 65 volumes with over 712 chapters.
Quotes
Anime
The first two seasons of the Kingdom anime are from Studio Pierrot and the third season is by Studio Signpost, licensed by Funimation, that is aired on NHK BS Premium.
Season 1
Season 1 began airing on 2012-06-04 and ended it's run with a total of 38 episodes.
Season 2
Season 2 began airing on 2013-06-08 and ended it's run with a total of 39 episodes.
Season 3
Season 3 began airing on April 5, 2020 and ended it's run with a total of 26 episodes.
Season 4
Season 4 will began airing on April 9, 2022 and will end it's run with a total of 26 episodes.
Movie
The first movie, directed by Shinsuke Sato, was released on April 19, 2019. It covers the first arc, Sei Kyou's Rebellion Arc.
The second movie, directed by Shinsuke Sato, is scheduled for July 15, 2022. It covers the second arc, Keiyou Campaign Arc.
External Links
References