Ki Shou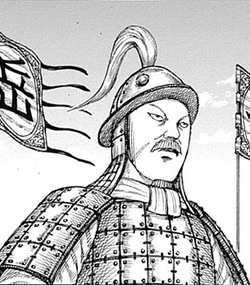 Biographical Information
| | |
| --- | --- |
| Status | |
| Gender | Male |
| State | Zhao |
Ki Shou was a Strategist in Ko Chou Army.
Appearance
[
]
He wore standard Zhao soldier armor but his helmet is different. The helmet design looks more similar to that of a musketeer helmet with a plume.
Personality
[
]
History
[
]
Story
[
]
He is first seen at Gaku Haku's side giving orders to the soldiers. He noted that the Hi Shin Army was withdrawing due to the arrival of their infantry and gave orders to assume formations.
After receiving news of Gaku Haku's death, he was desperately giving out orders to stop the Hi Shin Army. However, A Ka Kin launched a surprise attack on the headquarters and took off his head.
Abilities
[
]
As the strategist for the Zhao general Gaku Haku Kou, he is assumed to be a decent strategist.
He prepared a "Rain of Rocks" plan for the cliffs of Eikyuu. He was also able to forsee the dangers of a pincer attack on the headquarters from A Ka Kin. However, he is shown to underestimate the enemy, as he didn't believe the infantry of the Hi Shin Army would be able to scale the blind spot of the cliff or that Gaku Haku would lose.
Gallery
[
]
Trivia
[
]