Kaku Un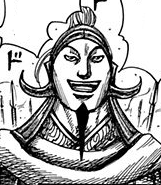 Kaku Un
is a
1000-Man Commander
of the State of
Qin
and a cousin of
Heki
.
Appearance
Edit
Kaku Un wears the armor of an Officer within the Qin military. He has a long goatee and is shown smiling.
Personality
Edit
He is shown to be quite cheerful, often teasing Heki about how their family spent big amounts of money for Heki's promotion to a General.
He makes his first appearance as a member of the Punitive Force Army under General Heki. Their mission is to suppress the rebellion in Tonryuu.
Abilities
Edit