Kaku Un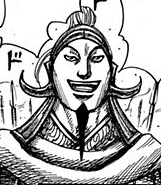 Kaku Un is a 1000-Man Commander of the State of Qin and a cousin of Heki.
Kaku Un wears the armor of an Officer within the Qin military. He has a long goatee and is shown smiling.
He is shown to be quite cheerful, often teasing his cousin about how their family spent a huge amount of money on his promotion to a General.
He makes his first appearance as a member of the Punitive Force Army under General Heki. Their mission is to suppress the rebellion in Tonryuu.
Community content is available under
CC-BY-SA
unless otherwise noted.