Ka En
Chinese
Wa Yan
Kanji
媧园?

Biographical Information

Status
Marital Status
Single
Gender
Male
Hair
Black
Relatives
Ka Rin (Sister)
Unnamed Brother
State
Chu
Location
With the Ka Rin Army
"
What is it? Sister.
"

—To Ka Rin
Ka En is a commander in the Ka Rin Army and is general Ka Rin's brother.
Appearance
[
]
Ka En has short hair at the front and a long ponytail flowing on his back and an X-shaped scar on his face. He wears the commander's attire.
Personality
[
]
Few traits of Ka En's personality have been revealed. He seems loyal, serious and very focused when it comes to warfare.
History
[
]
Sometime in the past, Ka En decided to join the Chu military and managed to become an officer, although his rank is not yet revealed. When the state of Chu entered the Coalition, Ka En joined the campaign as a member of Ka Rin's army.
Story
[
]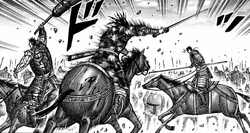 During the Battle of Kankoku Pass, he was sent by Ka Rin to kill Mou Bu in his fight against Kan Mei, to ensure that the Chu general wouldn't fall at any cost. Ka En marched through the observing soldiers but when he reached Mou Bu's back, Mou Ten appeared and blocked his strike stabbing him in the left shoulder. Ka En, frustrated pushed Mou Ten with his lance, throwing him right on Mou Bu's horse.
Abilities
[
]
Ka En's skills are yet to be revealed, but he was considered strong enough to be entrusted with the task of killing Mou Bu. He is skilled with a lance and was able to push back Mou Ten who tried to stop him.
Quotes
[
]
Calm Yourself, Bam Yu-dono. (Chapter 313: The Strongest Man, page 149)
Trivia
[
]
Ka En shares his sister's hobby in abusing her lieutenant Bam Yu.