Goba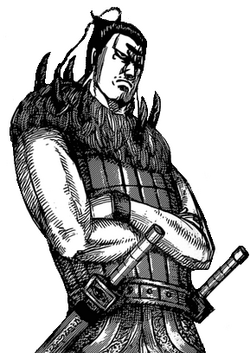 Goba was the second oldest brother of Rozo, the Quanrong King of Ryouyou in the State of Zhao.
He's a strong Quanrong commander with an Instinctual ability.
Brother to Quanrong King and oldest Brother, he is stated to be one of the smartest Commander among the Quanrong army and incredibly talented on Swordsmanship that's on par with Bajio.
Goba was first introduced during the Battle of Ryouyou fighting evenly with Ba Jio.
He was later seen on the second day with his brothers discussing the Yo Tan Wa Army strengths and weaknesses. He later asked Rozo about Shun Sui Ju whereabouts since he hadn't seen him all day.
He was then seen again on the ninth day with a 20,000 man army against the Ba Jio Army.
He was cornered by Ba Jio and Yo Tan Wa, with the latter instantly killing him after there was a brief fight.
Goba is a powerful warrior whose swordsmanship is on par with Bajio. He was however, outmatched by Yo Tan Wa who slew him for a brief exchange.
Among his brothers, he is one of the smartest commander in Quanrong as he feigned a retreat to lured Yo Tan wa and her men surrounded by Zhao's army and King Rozo's personal army.
Community content is available under
CC-BY-SA
unless otherwise noted.