Enpo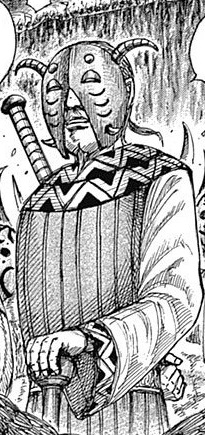 Biographical Information
| | |
| --- | --- |
| Status | |
| Marital Status | Single |
| Age | 60s |
| Gender | Male |
| State | Qin |
| Location | With the Yo Tan Wa Army |
Enpo is the Chieftain of the Enshu Tribe in the Yo Tan Wa Army.
Appearance
[
]
Just like the Mountain People, he wears a mask that symbolizes his tribe. And he shows signs of old age, being smaller than others, he walks with a crutch and wears a sword if fighting.
Personality
[
]
Just like others, he likes to whine, later to change tune in mid sentences.
History
[
]
He was one of the tribes that was absorbed by Yo Tan Wa in her army.
Story
[
]
Enpo was first seen disagreeing with Yo Tan Wa Army strategy for the Battle of Ryouyou. He was later called by the Mountain King herself for capturing the city.
But he later relented and infiltrated a place near Ryouyou and used his cliff-running tribesmen to assault the city.
Abilities
[
]
Just like other Enshu Tribe members, he can scale walls and cliffs.
Gallery
[
]