Do Nan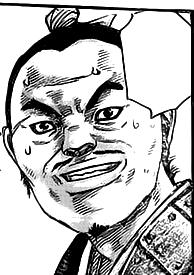 Do Nan was a soldier & messenger in the Hi Shin Unit.
Appearance
[
]
Personality
[
]
He was brave enough to offer to be the first to cross the river after Ki Hou has set up a rope.
History
[
]
He joined the Hi Shin Unit at some point and became a messenger and soldier in En's unit.
Story
[
]
As Shin stayed up all night waiting for Kyou Kai's return, he informs him that he has to return to Kan Ki HQ to meet Ma Ron for a strategic meeting.
Volunteered to go first to try out the "Hi Shin Unit Bridge" before En to make sure the others could cross the river. The stream is too strong, which makes him drop the rope after only 5 meters and die drowned.
Abilities
[
]
Gallery
[
]
Do Nan giving a message to
Shin
Do Nan trying the "Hi Shin Unit Bridge"
Do Nan drowns