Bam Yu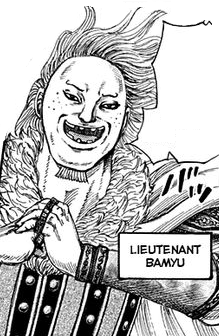 Biographical Information
| | |
| --- | --- |
| Status | |
| Marital Status | Single |
| Gender | Male |
| State | Chu |
| Location | With the Ka Rin Army |
Bam Yu is one of Ka Rin's lieutenants.
He has long light-colored hair and freckles around his cheeks. He also seems to be missing several teeth.
A carefree person. Although he seems a bit naive, he is quite observant when it comes to the battlefield. He is also very loyal to Karin, as he remains by her side, despite being constantly abused by her.
At some point in the past, Bam Yu entered the Chu Army and managed to become general as well as one of Karin's most trusted lieutenant.
During the Battle of Kankoku Pass, Bam Yu accompanied Karin's army. He was always at her side giving her advice and exchanging opinions, but never really joined in combat.
Once Karin's strategy to seize Kankoku pass ultimately failed, he left the battlefield to escape her wrath. He later returns to Karin's side.
STATS
Strength
80
Leadership
80
Intelligence
90
Experience
C
Ugly Narcissist
Nothing is known about Bamyu's strength and abilities, apart from the fact that he can take Karin's hits and casually laugh afterward. The only thing hinted is Ka Rin comparing Bam Yu to Kou Yoku and saying they were both "worth grooming". So he may be stronger then he looks.
Community content is available under
CC-BY-SA
unless otherwise noted.