Ba Jin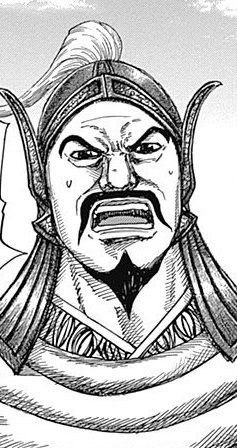 Biographical Information
| | |
| --- | --- |
| Status | |
| Marital Status | Single |
| Gender | Male |
| State | Qin |
Ba Jin is the commander of the rebel subjugation army that was sent to crush the State of Ai rebellion. He serves as Heki's Deputy general in the Heki Army.
Appearance
[
]
Ba Jin wears the standard officer uniform of cape and helmet. He wears a battle armor from head to toe.
He has the same facial hair as Heki with the mustache and pointed beard.
Personality
[
]
History
[
]
Story
[
]
Ba Jin first appeared as Deputy General serving under Commanding General Heki who led the Subjugation Army during Seikyou's Rebellion. He participated in quelling the rebellion in the siege and capture of Tonryuu city.
Currently, General Ba Jin is in charge of a Subjugation Army whose main purpose is to intercept and destroy the rebel army of the State of Ai. Shou Kaku is the Deputy General who was personally chosen by Heki to assist Commanding General Ba Jin.
He has just made contact with Shin of the Hi Shin Unit. And he is disappointed that Shin only brought 1,000 soldiers with him. Overall, the Subjugation Army's strength total number is at 9,500 soldiers. His main force is tied up in defeating the rest of the enemy soldiers that launched an attack on them near the Wei River. While a few units such as Shin's 1,000 soldiers are making their way to the city of Kanyou.
Abilities
[
]
Ba Jin proves to be a decent military officer and served as a deputy to Heki during Seikyou's rebellion. He recently again showed in the State of Ai's rebellion that he has the tenacity to overcome great odds.
Leadership
[
]
Ba Jin is capable of leading his army and his style of commanding troops is by the book and is very similar to Heki. His troops were unloading from the boats when General Juuteki's army suddenly ambushed them in the opposite shore of the Wei River. General Ba Jin's troops held the numerically superior soldiers at bay while the rest of his troops disembark from their boats.
Tactical Abilities
[
]
As a general who fought by the book, Ba Jin shows decent tactical abilities as he led Heki's force in textbook maneuvers and eventually overcoming the numerically superior soldiers of the rebel army.
Gallery
[
]
Ba Jin's Deputy General to
Heki